SMARTLIST FOR SMARTPHONES !!
It is The Time to Update The List with Some amazing Phones Released in 2012. Lets Just Recompile the List of Best Mobile Phones in 2012 and See what Suits You .
On Public Demand We Are Going to Present Best Smartphones at a Budget of 20,000 Rs . Well After Some market Research and user Reviews , We have Compiled a List of Best Of The Mobile Phones Under Rs 20,000. These Phone are Surely The Best Smartphone We Came Through in the Year 2012. Have a look at The Best Smartphone under rs 20000 in INDIA in 2012.
1. Intel Xolo :-
Slightly above Rs 20000 , This phone is on the number one place in our list . If you are going to spend 20k Rs, then buying this phone spending a little more is the utlimate deal. Intel Xolo X900,sold by LAVA franchise is a new technology Android smartphone manufactured by Intel co. equipped with a 1.8GHZ blazing fast Hyper threading processor. This phone has a 8MP camera and 1.3 MP back camera and runs on Android 2.3 upgradable. It has a 4.03" touchscreen , this phone is a flashy material. This phone is surely the best one in the list replacing the previous winner HTC Desire HD.
2. HTC DESIRE S -- Rs 19899
With Whopping Range of Smartphones From HTC , The New HTC Desire s has Surely been the Desire of Many !! Powered with 1 Ghz Powerful Qualcomm Processor and amazing 3.7 Inch WVGA Screen , the phone Got Reliability as well as Popularity Both . With Android 2.2 in its Bags This Phone Surely makes a Sense To be at number 3 in Our List !!
3. Nokia Lumia 710 (Rs 16200):-
Here is Some Top Gadget for Our Nokia Fans , Its Nokia Lumia 710. Though the Phone did not Succeeded Much as Expected But Sometimes Reality is Different from Results !! Yes We are Listing This Phone at Number 2 Not Just because of its Cool Looks But Guys It Surely Got a Great Potential as Well and Can Actually be The Gagdet to Buy !! It packs a 3.7 inch display, powered by a 1.4 GHz processor and packs a 5 MP Camera.Currently it is the best & affordable Windows Phone in The Market !!
4
. LG OPTIMUS BLACK -- Rs 19,950 --
Powered By Nova Display , This Phone is Also Called the Brightest phone in the Earth . With an Ultra Slim Design , This Phone is Surely Got the Style Factor . It is Powered with Android 2.2 Froyo (Upgradable to 2.3) , So You Dont Have to Worry About The APPS availability. It got a Powerful 1Ghz Corex - A8 Processor and a 5.0 MP camera With Autofocus and LED FLASH !!
5. Blackberry Curve 9380 -- Rs 19200 :-
This is One of The Most Sold Phones From Blackberry With Some Great Features and a 3.0" Capacitive Touch Screen . It got a Very Powerful 5 MP camera with Blackberry OS 7.0 and Fun Games Too .
It has a Very Strong Processor of 832 Mhz and A Virtual Qwerty keypad too.
If you want Some Professional Fun . go for Blackberry Curve !!
6. Motorola Defy Plus -- Rs 18000
For Motorola Fans , We have an Android Too . Yups Moto Defy Plus Has Performed Pretty Good in the Market and User Reviews of this Phone have Been Exceptionally Well. Powered With 1 Ghz powerful Processor and integrated with Android 2.3 Ginger Bread , This Smartphone Really Takes You on a Go !!
It has HSPDA connectivity upto 7. MBPS and has Economical Battery Too !!
Its The Strong and Stylish Rugged phone and Got The Protection from Dust n Water !!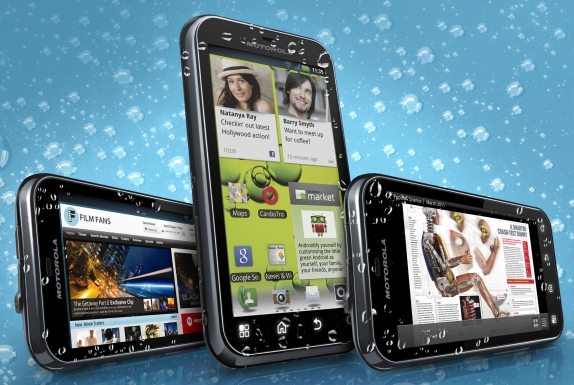 7. Samsung Omnia W -- Rs 17000 :-
Looks Like we are Preferring Windows Phone over Android With two of Them in the Top 5 But Guys We Seriously Suggest you to Go for Windows Phone Once .
Surely They Might Not have Tons of Apps Like in Android but the User interface and Lively Experience you get in a Windows Phone is Just amazing ! Samsung Has Spread its Wings in all Phone MArkets and This Windows Phone From Samsung is Surely very Fascinating with a a brilliant 3.7 inch Super AMOLED capacitive touchscreen with resolution of 480 x 800 pixels and 16M colors Display .
The Samsung Omnia W has a 5 MP camera with resolution of 2592 x 1944 pixels having features LED flash, autofocus, Geo Tagging, and also a secondry VGA.
It runs on a 1.4 GHz Scorpion and 512 RAM internal memory is 8 with 1 external memory Support.
8.SAMSUNG WAVE 3--Rs 15569 :-
Samsung wave Series Shared a huge Percentage in Smartphone Market With Speculations of Being one of The Top Smartphone OS later but Android Diminished Samsung's Plan of Having the best Mobile OS owned by Them Itself. But did it made Big Impact to Company !!
Well we ll say It did But Not that Much . Because Wave Series is Still grabbing a lot of Attention now also . New Samsung Wave 3 Got a 4.0 inches, Super AMOLED capacitive touchscreen, 16M colors, Resolution: 480 x 800 pixels
Camera: Primary Camera : 5 MP Camera with autofocus, LED flash, 2592 x 1944 pixels, Secondary Camera: VGA !!
IT got all Connectivity Options That Work at Lightning Speeds !!
9. Blackberry Bold 9000 --RS 17450 :-
Blackberry has Surely Lost
A very Large Market Base Since Other Smartphones Jumped in the India Market But still This Old Horse Got a Lot Much Power !!
Equipped with a 632 Mhz Processor and Blackberry OS , this phone is an Easy and Smart Choice for Business Professionals. It has a Very Efficient to use Qwerty Keypad and All Connectivity Options Like HSPDA , 3G, wifi available . The Camera is Of Just 2 MP and Seems like a very Big Drawback to Us !!
10. HTC Radar - Rs 17000
Another gem from Samsung , the new HTC radar has some exquisite things that got itself a true content of this list . HTC Radar has brilliant 3.8" LCD display to take your displaying feature at unique levels.This Phone is equipped with Windows OS 7.5 mango and is equipped with 1Ghz processor and 512 MB RAM. It has a 5 MP autofocus camera and is surely a cool bet if you are looking for something other than Android.
11. Galaxy Ace-2 (Rs 13800)
Following its fellow phone Samsung Galaxy Ace , India's largest Android seller has added another one in its list as Samsung ACE 2 with much more lime light than its predecessor. With good screen size and a String Dual core processor combined up with a 5MP camera , this phone is an ultimate gadget below Rs. 20000.The Phone's design in not much dramatic yet simple and attractive. The 3.6" LCD Display is quite impressive with a 5 MP camera . Powered with Smart features such as Geo tagging and Dual core multitasking processor equipped with Android 2.3 , this phone is surely a smart deal within this range. Other connectivity features viz. WiFi,3G , Bluetooth are up to date .
12.SAMSUNG GALAXY Y - RS 6800 :-
Well This Amazing Phone from Samsung has Made us Scroll our Mobile List to go That Low . Yes This is The Cheapest and The Best Smartphone we Had In India Till Now . Just Check out Its Specifications and u ll Know why its in the List !
832 Mhz Powerful Processor -- Well Thats Amazing if You Get Such A powerful Processor At such a Cost !!
2MP Camera With Smile Detection -- :) :)
3G Enabled
WIFI (802.11b , 802.11g) Bluetooth (Version 3.0 ).
3" Inch Capacitive touch Screen Built in 160 MB memory and Expandable Upt0 32 GB !! And Much More at Such a Low Price From Samsung .